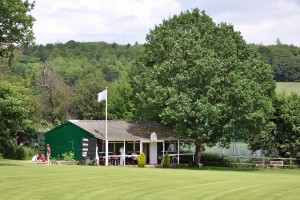 Great Missenden Pelicans Cricket Club is a great place to play cricket!
A happy, successful little club, cricket has been played at Nag's Head Meadow since 1901. Our ground is one of the best appointed in Bucks with lovely views of the Chilterns.
We play on Sundays, with the odd midweek game, from mid-April to early October. Most of our fixtures are against local village sides. The games are mainly timed cricket with the occasional 40-over game.
The club's ethos is very much into the enjoyment of the game. We are very keen to play sides with the same feelings about the spirit of cricket, within a relaxing but competitive atmosphere.
We welcome all new players into the fold, whether younger or of more mature years! It is not uncommon to see the sons of some of the players in the team along with other youngsters. We are also a natural home for ex-league cricketers who wish to wind down commitments and enjoy the relaxed family atmosphere of village cricket, or those who wish to return to the game. Read more about us
Forthcoming Fixtures
Date: Sunday 12th July
Opposition: The Golden Age
Venue: Nags Head Meadow
Time: 2-00 pm
Date: Monday 13th July
Opposition: Northwood
Venue: Northwood
Time: 11-30 am
Date: Sunday 19th July
Opposition: Iffley Village
Venue: Nags Head Meadow
Time: 2:00 pm
Recent Results
Sunday 22nd September vs Bovingdon
Great Missenden Pelicans 143 (John Greenwood 34*, Raghu Kankate 32) Bovingdon 144-7 (Jack Blackburn 3-19)
LOST by 3 wickets
Match Report
Sunday 15th September vs Hyde Heath
Great Missenden Pelicans 146 (Raheel Khan 48) Hyde Heath fewer (details awaited)...
WON
Match Report
Sunday 8th September vs Ley Hill
Great Missenden Pelicans 273-4 (Asad Rehman 96, Raheel Khan 61, Amit Singh 53) Ley Hill 193-3 (Andrew Marshall 2-28)
Match DRAWN
Match Report