Lord Gnomes 157 all out (R Kankate 4-53) Great Missenden Pelicans 161-6 (K Kankate 84*, R Kankate 59*)
They say the pen is mightier than the sword, but in the Iceman's case it is as slow as his running between the wicket, so it gives me pleasure to try and make sense of last Sunday.
Sunday morning was overcast and the wicket was green so it was with all the purpose of a Panzer Division that Skipper for the day Toobes strode out to the wicket to loose the toss. Using the Bailey lucky 50p the toss was unbelievably won and Toobes elected to bowl. Lord Gnomes muttered their appreciation and set about padding up. Toobes still in a daze walked back to the clubhouse unsure how to break the news to the team.
If omens were needed in hindsight surely this was it.
It is fair to say that victory over the Gnomes are about as rare as a Gypsy's tax return so the expectation of chasing 260 seemed about fair.
Opening the bowling was Josh and Toobes which was as tight as a Scotsmans wallet, Josh took the first wicket which was a rather pacey ball that saw off the very useful opening batsman, Toobes took the next two wickets and the Gnomes were reeling on 24 for 3.
A bowling change brought in the Kankates and with each wicket falling another useful batsman seemed to be leaving the clubhouse, it was during this spell that the Pelicans can firmly lay to rest the saying that 'catches win matches' as chance and half chance was thrown to the floor as if the ball was smeared in dog poo. Special mention must go to the Iceman who managed to drop a catch not that dissimilar to the ball you throw your 3 year old child, who is wearing a pillow case over their head having just had an attack of rickets. It was also good to see that Tony had found his spring loaded gloves again and Hassan on seeing utter confusion in-between the wickets decided against picking the ball up and throwing it to any end elected to try and use the force. Unfortunately for young Hasswalker the force was weak and the ball remained stubbornly where he had ran past it.
The bowling thankfully was accurate and unusually for the Gnomes the kick on they normally are well known for was not materialising, there were even some mutterings of giving them some runs but Toobes as everyone knows is particularly miserable and that was never going to happen.
Hassan replaced Kankate Junior and continued the excellent bowling display picking up 2 wickets, though pick of the bowlers with 4 wickets was Kankate Senior the final one being unbelievably a catch by Bails D.
The Gnomes somehow had reached 157 all out and tea was taken.
Following last weeks feast surely standards would slip, but no Fresh Bech and his able sidekick Hayley provided a meat and vegetarian feast not seen since Holy hands were passed over some loaves and water.
With spirits as high as our stomachs Bails R and Iceman strode out to lay low the opposition bowling. With expectations at stratospheric levels there would be plenty of time for our teas to settle until we had our usual mid order collapse.
Unfortunately this week we decided to get our collapse in early as Bails R departed the wicket, Bails D made his way out only This sentiment seemed to be the instruction passed down and Bails D left the field of dreams, muttering darkly about the 4.15 from Missenden. Manisty too decided to examine the wicket for a split second as did Tony. Iceman to decided that he too would prefer to watch the game in the clubhouse, and you know you're in trouble when your opener is fifth wicket down for a duck. Hasan actually returned a proud man being the top scorer with 3.
The Pelicans were 20 for 6 only another 138 to win, BUT never fear when the Kankates are here, Rags joined Kunal at the wicket…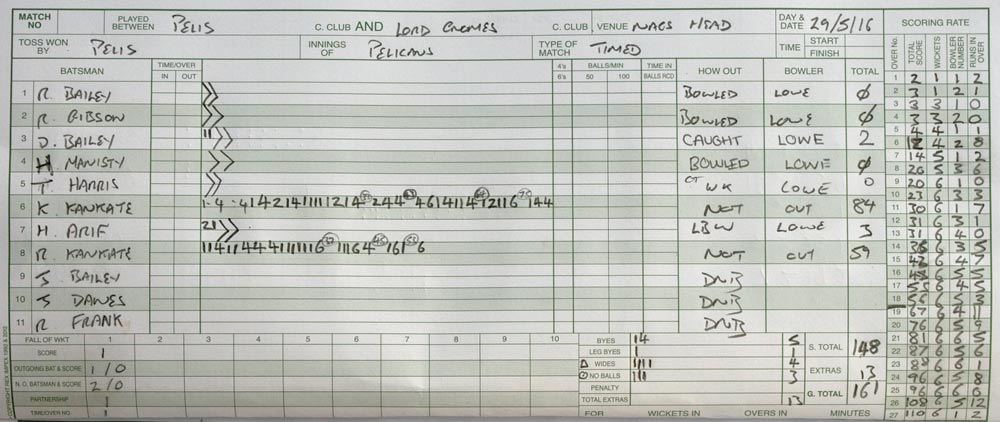 Now I have left a larger than normal gap above by way of suspense because words cannot do justice to the hell that was unleashed from the bats of Kankate junior and senior. The chippy Gnomes started to get a little bit quieter as 20 became 80, and then 80 became 100, Kunal this week made his 50 thanks in no small part to Josh not scoring. Rags too blasted past 50 and still they carried on. 100 became 120 which became 140. The opening bowler in an act of desperation was brought back into the attack but that did not stop the utter carnage that was taking place at Nags Head Meadow. 140 then became 156 which with a shout of 'No ball' from Bails R became 157. Such was the confidence of Kankate junior a number of singles were declined until he regained strike and finished it in the only style he knew how to, another mighty 4.
This was a proper team effort with all contributing, bowling, batting fielding and dropping that I have never witnessed to beat, what was a very worthy opposition.
A pleasure to have Skippered this one.
Reports are intended to convey an entertaining picture of the day's play. No disrespect is meant, but if on occasion we misjudge matters, please take it in the friendly and humorous spirit in which it is intended.